Useful Structures are specialists in the supply of bespoke marketing suites with a track record that speaks for itself.
Whether small and functional or large and spectacular, our bespoke Marketing Suites are based on the unique requirements of your project and your development. From concept to completion, we will work with your Sales and Marketing team, Architects. Technical, IT and AV teams and Creative Agencies to create remarkable structures and spaces.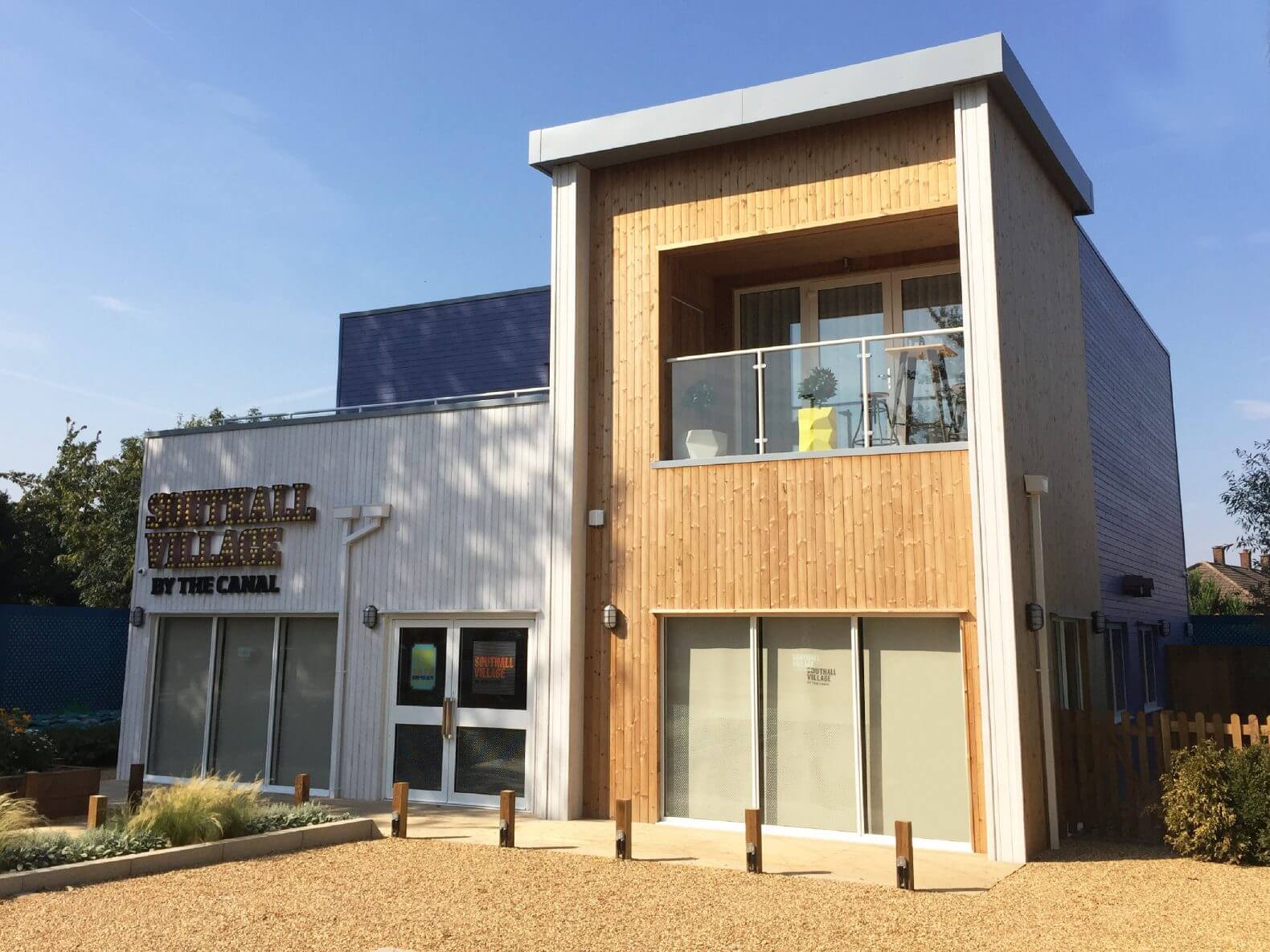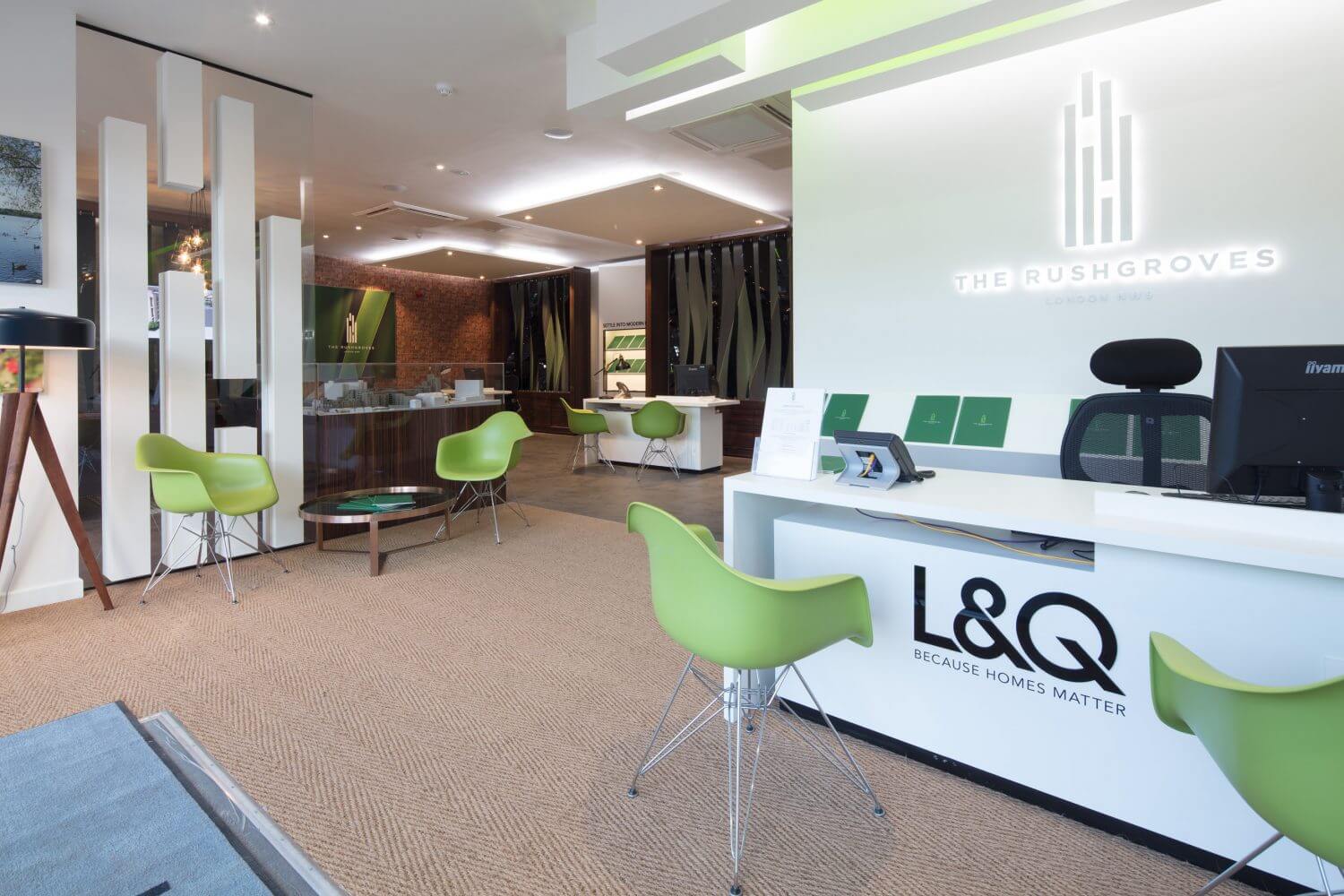 Our marketing suites are as unique as our clients' developments but we don't stop at making them look spectacular. We recognise that, as well as looking great, your marketing suite needs to be an effective and ergonomic working environment for your Sales and Marketing team. This is why interior and exterior fittings, data, electrical, AV and telephone are placed exactly where you need them with lighting systems, air conditioning and workstations all customised to your exact needs.
Throughout the design process, regular consultation with you and your team will help us to establish your requirements for size, layout and fit out and give us a clear understanding of your design ideas and operational needs. We will include everything you need and nothing you don't. All aspects of the suite; its fixtures and fittings, data and AV, lighting heating and decoration will be agreed with you and signed off prior to production.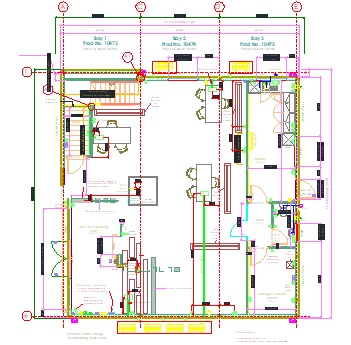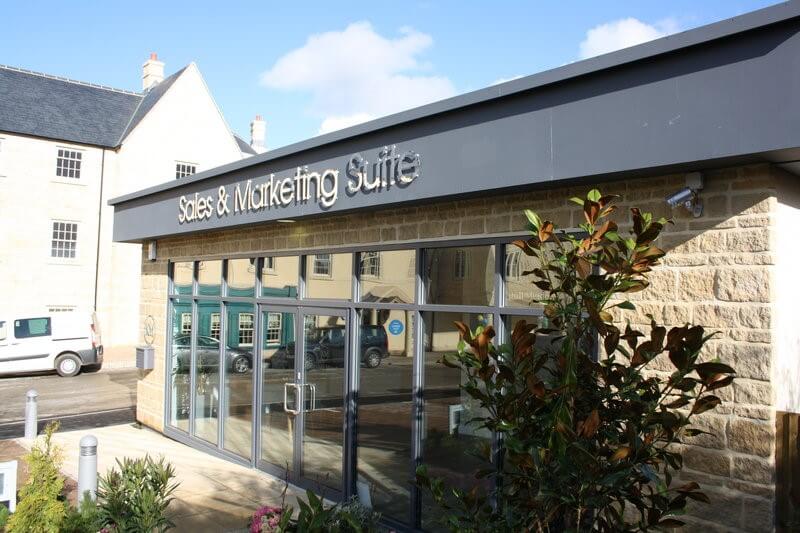 Once designed and finalised, our site team work with your construction team on-site to ensure a trouble free and on-budget installation. Our installation teams are all very experienced, all at least CSCS accredited and all hold up to date operators licences for every piece of equipment used. We provide comprehensive method statements, risk assessments, lift plans and certification. We will provide you with a full drawing package including foundation design drawings and work with your on-site team to ensure projects are safely delivered on time and on budget.
Off-site constructed to minimise installation time on your site and fully relocatable to maximise your return on investment, our suites are not only ideal for your overall project management but represent great value for money
Larger marketing suites often incorporate full sized show apartments, and we will work with you in stages to create your ideal, exclusive, spectacular marketing suite.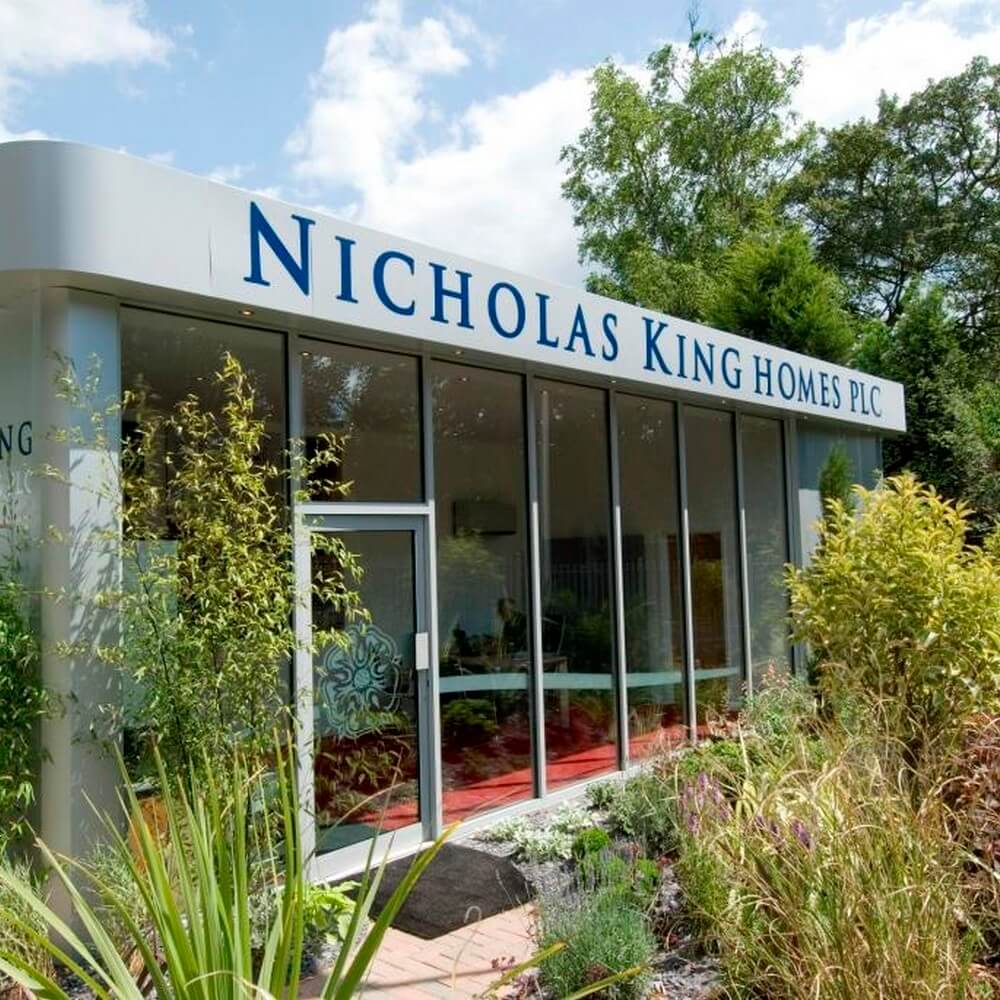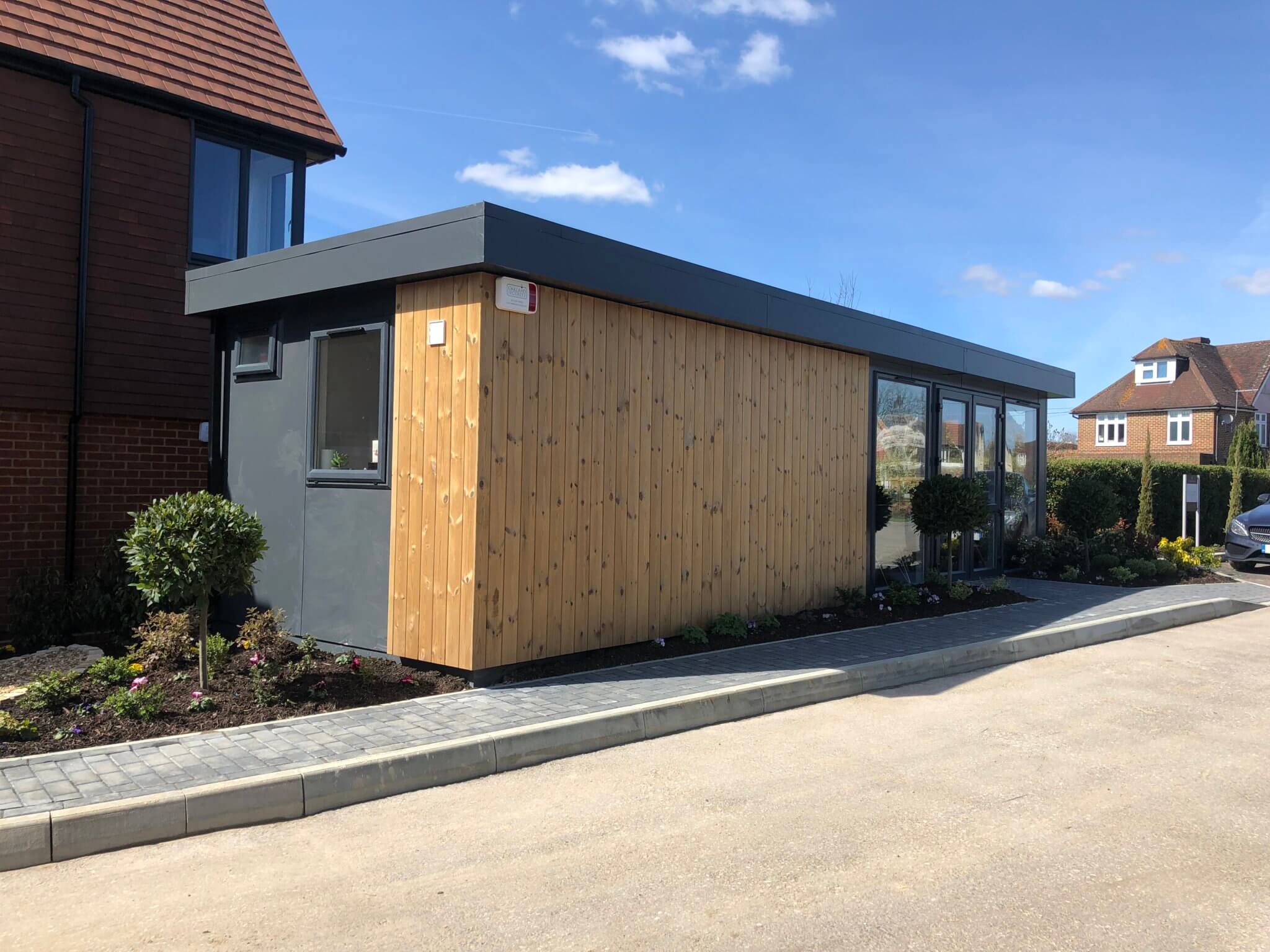 Budget Sales and Marketing Suites
Of course, every development is different. Smaller developments need something smaller and more befitting of the project budget – with Useful Structures, this doesn't mean compromising on the appearance or impact of your sales presence. Our one design "Foundation" range combines budget pricing with first-class aesthetics and is ideally suited to short-term or smaller development sales and marketing operations.
State-of-the-art bespoke marketing suites by Useful Structures
When it comes to creating a marketing suite for the first time, many companies find it difficult to bring all of the above aspects together into one space. Of course, they understand the brand and the product or service they are trying to sell; however, many business managers lack the expertise and experience needed to design and create a high-quality marketing suite that does exactly what it is intended to do (i.e. inspire customers and encourage them to make a purchase). This is where specialist suppliers, such as Useful Structures, can be of great help and assistance.
We have great experience and expertise in this area and, over the years, we have helped countless businesses to improve their operations and increase their sales by creating temporary marketing suites to meet their needs. We have a proven understanding of building safety regulations and standards and, when it comes to the design and aesthetics of the structure, we can offer valuable advice and suggestions in line with your business. From concept to completion, we work closely with our clients and their team of staff. Our experienced staff will construct and install the structure with minimal fuss and, ultimately, we strive to create a bespoke marketing suite that ticks all the right boxes and sends the right message to your potential customers.
If you would like to find out more about marketing suites, or if you have any questions about the marketing suites for sale at Useful Structures, please feel free to get in touch. Our dedicated and friendly team of staff are always on hand and happy to help with your enquiries. Give us a call on 01788 861246, or drop a quick message using the online contact form. These structures are an exciting advance in the world of sales and marketing; they are the first step in the customer journey and they are becoming increasingly important to a businesses' success. Rethink your sales and marketing strategy and start creating your perfect bespoke marketing suite today!
Frequently Asked Questions
Can marketing suites really help increase sales?
Yes! First impressions count when it comes to selling a property, and a marketing suite can be an invaluable tool for your business.
Having a marketing suite that portrays the correct message and captures the essence of your development is key. These suites can ultimately boost your sales – and here's how:
A well-designed marketing suite is a brilliant way to reinforce your brand, promoting your message and business philosophy.
Providing a comfortable setting can help to engage prospective clients, highlighting the quality design and service they could see should they purchase from you.
Marketing suites can help with off-plan sales (developments that are bought before or during construction). Using technology and detailed drawings, you can show customers what they're buying into and what they can expect.
Effective signage and stylish interiors inside your marketing suite can enhance the customer's experience – showing them why your development is worth their time and money.
To find out more, check out our blog 'Increase your sales with Useful Structures' marketing suites'.
How do you create the perfect marketing suite?
Your marketing suite should encourage customers to visit and buy one of your beautiful homes. They should feel at ease from the moment they walk through the door, ensuring they are in the right mindset to buy.
Although they aren't the largest of spaces, simple things like clear external signage, pavements around the site, and convenient car parking spaces will instantly make your suite more appealing to prospects from the outside.
On the inside, it's worth incorporating a welcoming reception area so visitors know where to go when they arrive. In addition to comfortable seating, consider a private room for sales negotiation. To enhance the experience even more, you may wish to provide refreshments, too.
Your marketing suite's interior décor will obviously depend on your target audience – but you want it to be warm, comfortable, attractive, and aspirational at the same time. The furniture and technology you use in your suite should also reflect the development.
For more tips on how to create the perfect marketing suite, and to discuss your ideas with the team at Useful Structures, call us on 01788 861 246.
How long will it take to install a marketing suite?
From the brief to installation, it can take anywhere between a few weeks to several months – depending on the size and scope of the marketing suite and fit-out.
Although it's hard to put a timescale on things, here at Useful Structures, our team will work closely with you and your team to determine your requirements for size and layout whilst keeping an eye on your all-important launch date
We'll also consult with you regularly to find out a little more about your design concepts and operational needs, and all fittings, fixtures, and decorations will be agreed with you before they're signed off.
One of the best things about choosing us to design and install your marketing suite is that we not only make sure it looks great and provides an ergonomic work environment for your sales and marketing team, but also include everything you need to start using it straight away including electricity, lighting, heating, air conditioning, data and AV requirements.
To discuss your ideas in further detail with our friendly team, and to get the ball rolling, get in touch with us today.
Are your sales marketing suites always designed in-house?
Yes! Here at Useful Structures, all of our marketing suites are bespoke and made to order.
The first step is for our specialist designers to liaise with you, your marketing team, architects, IT experts, and creative agencies in order to establish what you want your structure to look like and which fittings and fixtures will work best for you, your sales team and development.
Armed with the above information, we can then design and price your sales and marketing suite. Should you decide to progress with your project, the structure will be delivered, installed and fitted out by our specialist teams.
As the vast majority of our construction is carried out off site, our time on site and your site disruption is kept to an absolute minimum.
For more information about our bespoke marketing suites and the design process, please feel free to contact us.