Portable marketing suites
Securing early sales is key to success, yet demonstrating the quality and style of your homes can be difficult – especially if the development isn't complete. This is where our temporary marketing suites can be such a valuable asset to your sales and marketing operations.
Portable marketing suites are not only a great way to showcase and sell your product but also a worthwhile, long-term investment. Why? Because, just as the name suggests, they can be moved to a new location and used time and time again.
Designed and built to be as a robust, comfortable and impressive as a permanent structure. Yet, due to the innovative way in which they're constructed, it's incredibly easy for our team to disassemble the temporary marketing suite and relocate it quickly and cost-effectively to your next site.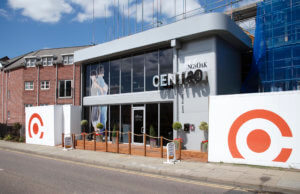 That doesn't mean to say it will have to look the same for every project. The initial portable marketing suite will be made bespoke-to-order to meet the needs of your present location. But, each time you decide to move, it can be modified as much or as little as you like to suit your new project. The exterior finish and colour can be changed, new features can be added, and the internal layout changed to meet your new requirements – the choice is yours and the possibilities are endless.
Relocatable marketing suites are a future-proof option. It's possible to create the perfect building for every site that you work on, without having to pay for a brand new structure every time.  Our team will take care of everything on your behalf – from the initial construction and installation to future adaptation and relocation – and, in the medium to long term, they offer fantastic value for money.
Reap the benefits of a portable marketing suite
Here at Useful Structures, we tailor our temporary marketing suites to create eye-catching and unique facilities that set you apart from the competition.
We'll work closely with you to ensure your suite reflects your corporate branding and development values, both inside and out, whilst also ensuring your clients feel welcome and comfortable from the moment they enter.
Whether you want a small sales building or a complex multi-storey "statement suite" incorporating full sized show apartments, state-of-the-art tech and AV and bespoke lighting, we can help.
Our clients include some of the largest and most respected builders and developers in the industry, and we would love to talk to you about your next marketing suite – however large or small.
Want to know more about portable marketing suites?
If you have any questions about our marketing suites, please feel free to get in touch. We're specialists in this area and are always happy to help. Either give us a call today on 01788 861246 or send an email to info@useful-structures.com and we'll get back to you.