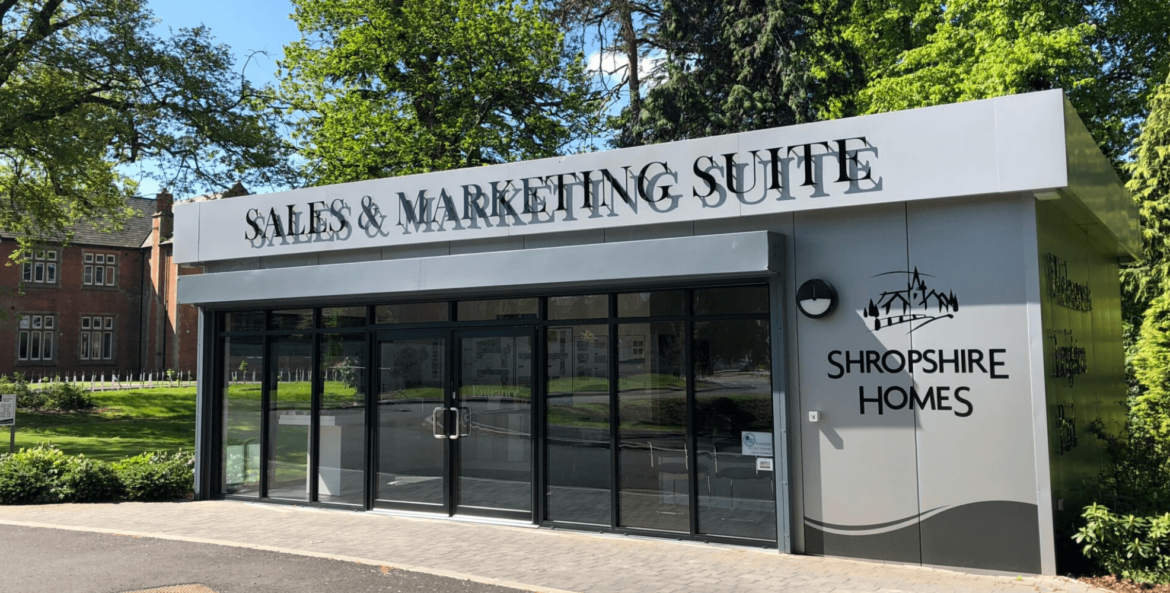 Want to create an impressive marketing suite?
With rising competition amongst property developers, it's more important than ever to step up your game. The final goal, of course, is to sell your product, be that a six bedroom detached house or bijou apartment . . . but your marketing space needs to take customers on a journey – and show them exactly what kind of life and lifestyle that property could provide.
Here at Useful Structures, we're skilled and experienced in effective marketing suite design. It's fair to say, we know what works and what doesn't. And, here, our experts offer a few top tips on how to make the most of the space and sell your new builds – before the first brick has even been laid.
1. Invite customers inside
First impressions are crucial. Therefore, before thinking about the interior design, be sure to consider the outside aesthetics of your new marketing suite. This is the start of the customer's experience – and it needs to showcase your development in its best possible light and to be a reflection of the values and ideals of your development and your business.
One effective technique is to choose a look that is sympathetic to the surrounding environment. For example, a suite situated in a relatively rural or parkland development could have sections of timber cladding or sedum walls or roof and set in gently landscaped surroundings, a suite located in a more cosmopolitan city centre would be better finished in sleek contemporary materials and glazing. In either case, carefully considered exterior lighting can transform the look and feel of the suite for anyone passing at night. Wherever the location, matching the exterior of your suite to the finished exterior of the properties being built can be a great way of communicating the quality of materials and finish on your development – regardless of the finish on your project, we can usually match it exactly.
Time should be taken to consider the position of your suite on your site. It needs to be very visible to passers-by be they on foot or driving –  your marketing suite structure can be seen as an extension of, and an addition to your other visual marketing materials. Clever positioning and orientation can also maximise the available car parking in often space-poor locations.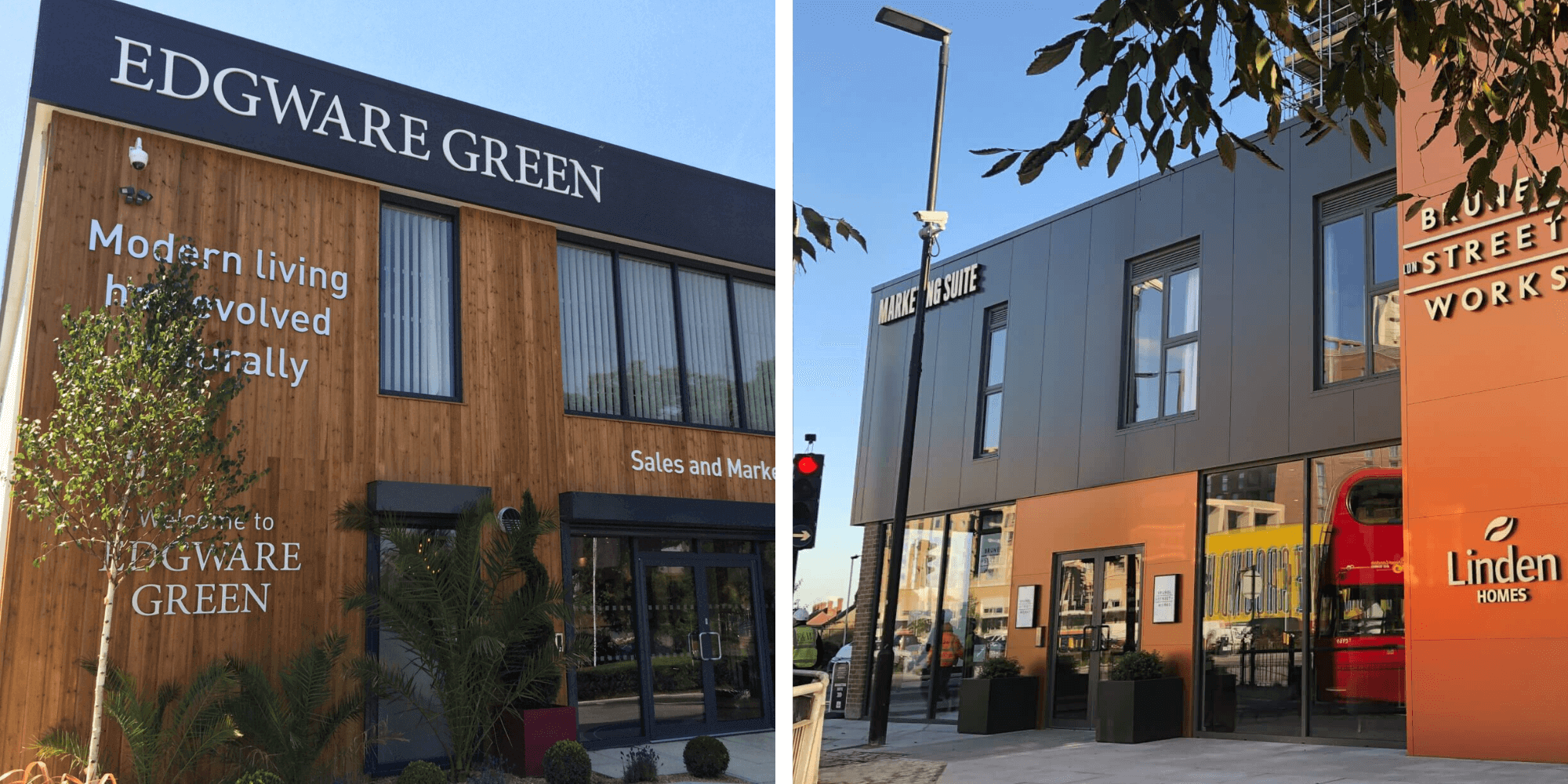 2. Create an impressive interior
No matter what size your suite is, the interior design will help enormously in communicating your vision of the lifestyle that you are trying to sell alongside your product and the target demographic is obviously key in determining your interior design choices.
What kind of interior will help to sell that vision? At Useful Structures, we have a wealth of experience in accommodating the interior design requirements of our clients and their creative partners. Whether that is as simple as the application of specialist paint and wall finishes, the building of an espresso bar or the inclusion of data services to accommodate the latest touch screen technology we can help convert your interior design ideas into a customer experience worthy of your development.
3. Leave space
It can be tempting to fill your marketing suite with furniture, signage, and displays. After all, you need to get your message across. But overcrowding can be detrimental to sales – especially if the suite is already relatively small.
One of the keys to good marketing suite design is to keep things as open as possible. Yes, you may need an area to discuss numbers and close the sale but this does not necessarily need to be in a fully separate space. Partial partition walling can create privacy whilst maintaining a feeling of space even in the smallest marketing suite.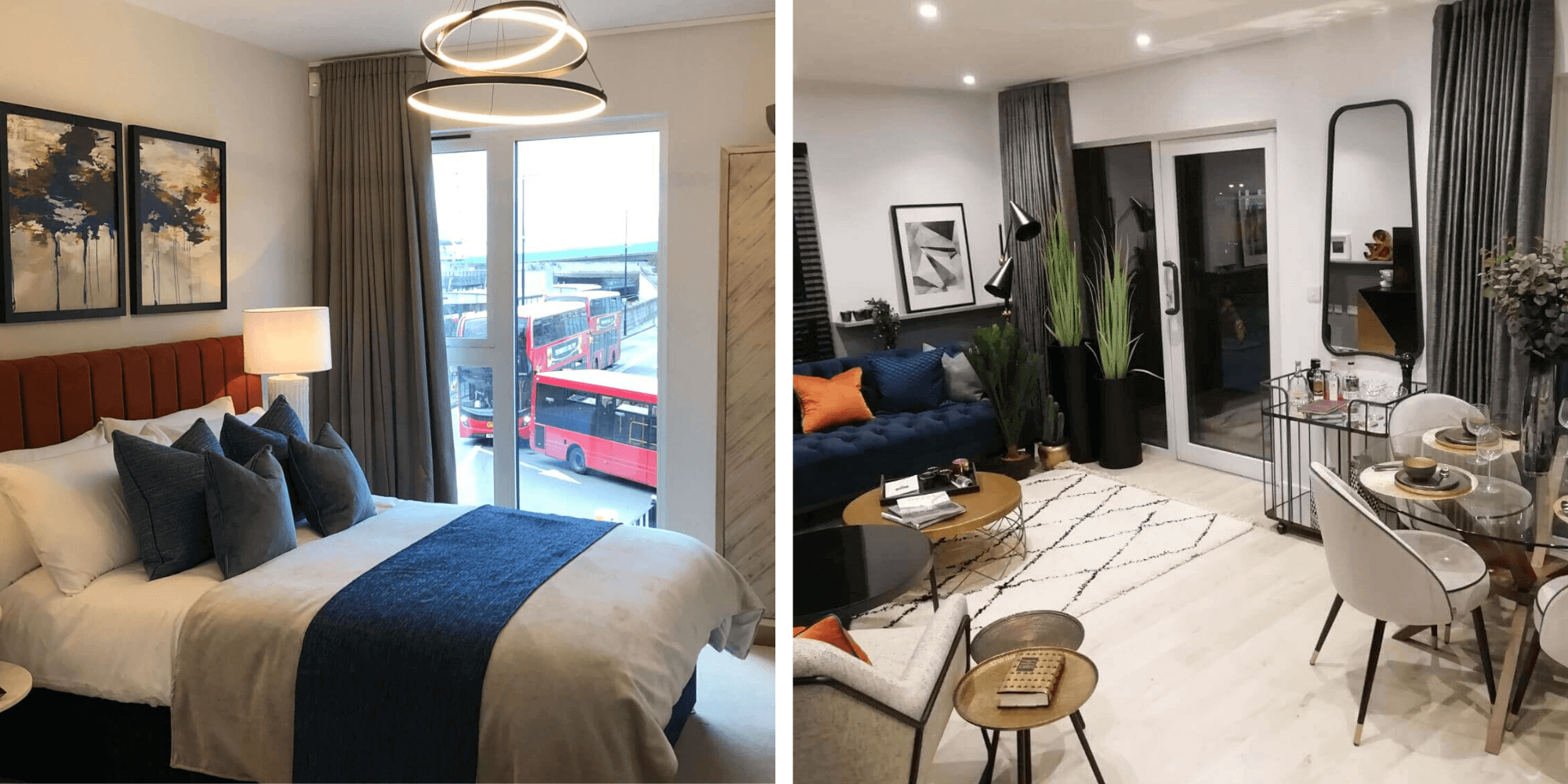 4. Use lighting wisely
Lighting is a fantastic tool in marketing suite design.
Not only can it help to create a warm and welcoming interior space, if skilfully positioned, it can be used to highlight wall displays and development models. Ceiling, floor, wall and pendant lighting in all its forms are available, supplied and fitted through Useful Structures
5. Include aspirational imagery
Always important but imperative if you're selling off-plan. Providing your customers with an attractive vision of your finished development and their new home and lifestyle is a very obvious but sometimes overlooked aspect in sales and marketing suites.
Whether this is done using traditional materials or the very latest in tech is as much a question of preference as it is of budget.
CGI (computer-generated imagery) and VR (virtual reality) simulations are a proven way to take potential buyers on a tour of their potential new property and its surroundings and can reflect the exact building specification and even offer colour, fixtures and finishing options before a brick has been laid whilst development models give customers a better sense of how the final development will look and where their property fits in the grand scheme of things.
Although it may seem dated, a glossy brochure is often requested by or offered to your customer but you will need somewhere to store them . . . how many times have you seen these kept in the staff WC? It's all about design . . .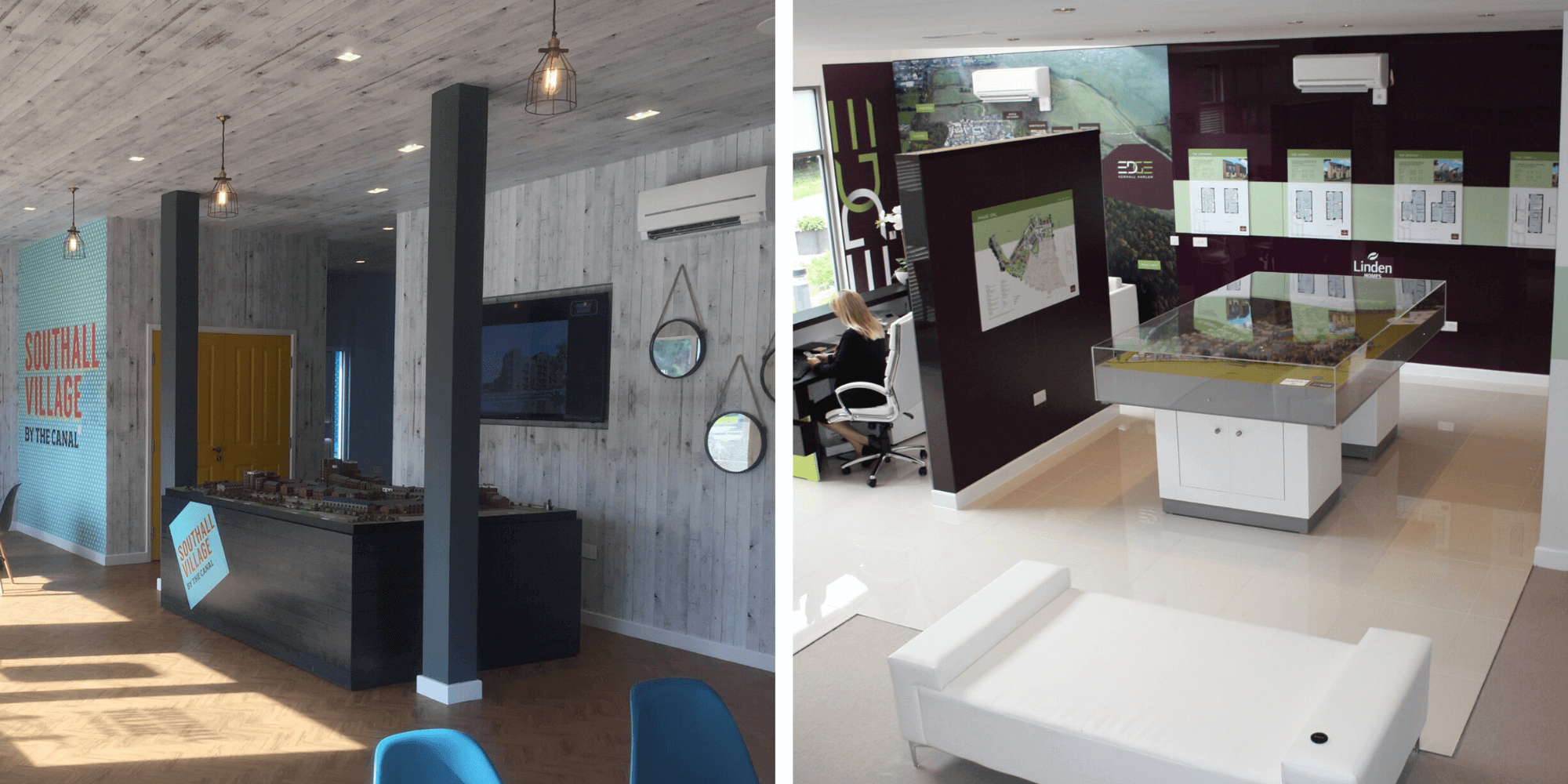 Start your marketing suite design today
Here at Useful Structures, we understand just how important it is to get the look and feel of your new marketing suite right. That's why, we're always happy to help and consult regularly with our clients – particularly during the design phase – to ensure it hits the mark and stands out from the crowd.
For further advice on effective marketing suite design, or to discuss a new project, please feel free to get in touch. We're on hand and ready to answer your questions at all times. Give us a call on 01788 861246 or send an email to info@useful-structures.com and let's get talking!