Budget marketing suites
Budget marketing suites are made from the same high-quality materials and to the same standards as any other portable or bespoke sales building. They look unique, perform brilliantly and make a great statement to your potential customers – but come in at a budget to suit your more modest developments.
Essentially, these low-cost marketing suites are a step change from the classic sales cabin. They offer the perfect place for your marketing team to successfully secure sales, whilst staying within your development's marketing budget and providing all of the benefits of our higher-end bespoke designs.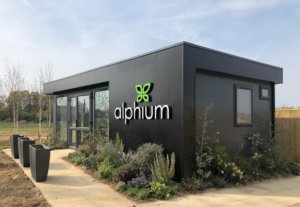 All of our budget marketing suites are made-to-order. They come with a range of aesthetic and functional options and can be tailored to your individual needs. Thanks to their single-unit construction, they're very quick and easy to install and relocate and can be adapted on relocation in the future. As such, they offer an excellent return on investment.
This cost-effective alternative is the perfect option for short-term sales operations, developments with limited space and projects with a small budget. A budget marketing suite is also ideal if you need an early on-site presence. Rather than waiting for a 'double garage conversion', simply invest in one of our well-designed yet low-cost structures and you can start attracting customers and selling your homes from the outset.
Invest in your budget marketing suite today
Having a sales and marketing building that conveys the right message and captures the essence of your development is paramount to engaging customers and encouraging them to complete their sales journey with you.
A low-cost marketing suite can still include a waiting area, 3D models, interactive screens and anything else you need to provide your potential buyers with a comfortable place to talk with your team, whilst reinforcing your brand and development values.
If you'd like to find out more about budget marketing suites – or any other type of marketing suite currently available – why not get in touch? You can reach us on 01788 861246 during working hours or simply send an email to info@useful-structures.com. We're here to help and can create the ideal marketing suite for you and your specific needs.