Bespoke marketing suites
Want to set your development site apart from the competition? Why not invest in a bespoke marketing suite? 100% unique and made-to-order, they're designed to be impressive (and practical!) and will ensure that your development stands out from the crowd.
Our goal is to make sure that every structure we create is as unique as the client it's for. Whether you want something small and simple or large and spectacular, we can help. Creating a one-of-a-kind custom marketing suite that meets your day-to-day needs and ticks all the right boxes.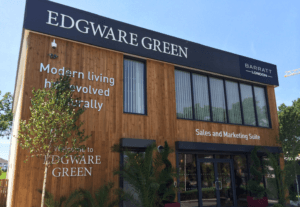 We start the process by gathering information, discussing your requirements, and getting a good understanding of how you want the final structure to look. Essentially, our bespoke marketing suites can be made to any size and come with a range of traditional and contemporary finishes. There are many aesthetic and functional options to choose from. Simply tell us what you have in mind and we will bring your ideal structure to life.
Of course, not every development needs or can justify a large sales and marketing building. We recognise this and also supply smaller budget marketing suites which, despite their low-cost, are still made bespoke-to-order and tailored to your individual needs. You can choose from the same range of interior and exterior finishes and they can still be fitted with the same fixtures and fittings. They're just slightly smaller and have a simpler design than some of our larger buildings.
Create your bespoke marketing suite today
Bespoke marketing suites are the best way to attract attention and make a lasting impression on your potential customers. So why not get in touch? Either give us a call on 01788 861246 to chat with our team of experts or send an email to info@useful-structures.com and take that first step towards your unique marketing suite today.